DORIS YOUNG BOYER

Speaker -- Podcast Host -- Solutions Facilitator®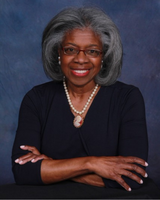 Doris Young Boyer is a sought-after keynote speaker, published author, trusted leadership advisor and protocol expert on the behaviors that create a powerful presence, peak performance and bottom-line results.
Known as a problem solver who values relationships and results, Doris is a Solutions Facilitator® trained in mediation, facilitating meetings and leading innovative problem-solving sessions that lead to actionable solutions. Doris works with her clients to get solutions implemented faster, easier, and more efficiently. Doris makes your path smoother.
Doris is a thought leader on Gracious Powerful Leadership which is the result of intentionally choosing and using relationship-focused behaviors as the default in leading others as well as yourself. Doris has firsthand knowledge of the communication and leadership issues executives face on a regular basis as well as the diplomacy, conflict resolution skill and protocol savvy needed to address these issues. With over 25 years of domestic and international corporate experience, Doris is the go-to expert on leadership behaviors and global protocols.
During her tenure as a Human Resources professional with companies such as Clairol and Bristol Myers, Doris traveled extensively in Europe representing the Corporation to its many divisions. She and her team planned and executed conferences, briefings and retreats in Europe to increase the effectiveness of company executives.
As a result of her expertise and experience, clients avoid costly mistakes, reduce the learning curve in new situations, increase influence and profitably, create an effective workplace culture that retains employees and exhibits the behaviors of gracious powerful leaders.
Doris has a BA and MA in behavioral and social sciences and post-graduate training in Finance and Strategy Development. She is trained and certified by the founder of the Protocol School of Washington.